Every new smile starts with an initial consultation…
At your initial consultation, Dr. Greg Baker, Dr. Chris Baker and our team will:
Review your dental and medical history forms
Perform an initial exam and discuss your orthodontic concerns
Decide with you on next steps
Tip: Filling out our patient forms before your first visit can streamline the process.
Next Steps
If, at your initial consultation, the decision was made to conduct further evaluation, then next steps will be to schedule two more appointments: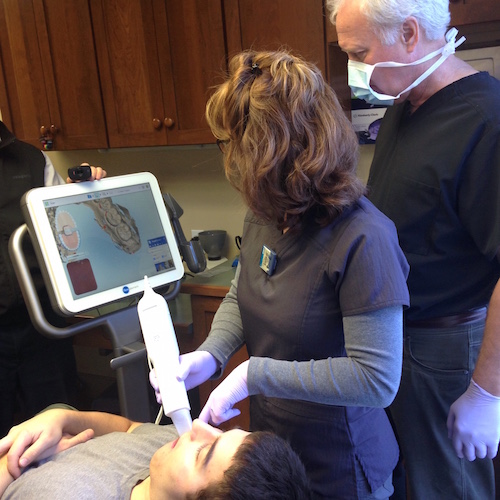 A records appointment (X-rays, photographs, and models taken with our iTero Digital Impression System—no messy impression molds!)
A treatment consultation (private discussion with Dr. Greg and Dr. Chris of their findings and recommended treatment plan)
At the third appointment we will also discuss financial information, insurance options, and payment plans. Depending on your treatment plan, the fourth appointment usually involves placing your new orthodontic appliance and generally takes about one hour.
Scheduling Appointments
Visiting the orthodontist every four to eight weeks is an important part of your treatment. Morning and early afternoon hours are generally reserved for longer appointments—such as for diagnostic records, appliance placement, and repairs. It will be necessary to miss some school or work for these appointments. We can provide a printed excuse slip upon request.
Once you are in active orthodontic treatment, we will do our best to schedule appointments after school or work. Overall, we will work with you to make sure your appointments are as convenient as possible. (See our office hours for Hanover and New London.)
Late and Missed Appointments
We want your treatment to proceed as quickly and smoothly as possible. This can only happen if your appointments for appliance checks and adjustments stay on schedule.
Of course we also understand that "life happens," and if you're running late, please let us know and we will do everything we can to accommodate you. Barring a last-minute illness or emergency, we request at least 48 hours notice for rescheduled appointments.
Emergency Visits / Repairs
Broken brackets, loose bands, and other unexpected problems sometimes occur during treatment. Some problems can be handled with at-home care until your next appointment. Other problems will require an extra visit to our office. In either case, please call our office as soon as possible to help us determine how best to handle the problem and avoid any delay in your treatment. (Avoiding these problems as much as possible—such as by staying away from risky foods—will help prevent adding time and expense to your treatment.)
Visiting the dentist during orthodontic treatment
It is important that you continue to visit your family dentist once every six months for teeth cleanings and routine dental checkups, even during your orthodontic treatment. If extra dental care is needed, we will be happy to coordinate with your family dentist to make sure you receive the best possible care.