Dr. Gregory Baker opened his practices in Hanover and New London, NH in 1989 with his son Dr. Christopher Baker joining him in 2016 after completing his formal orthodontic education. Dr. Greg, Dr. Chris, and their team continue to provide patients with the best possible orthodontic care. Continuing education is a top priority in order to consistently offer patients the most up-to-date techniques.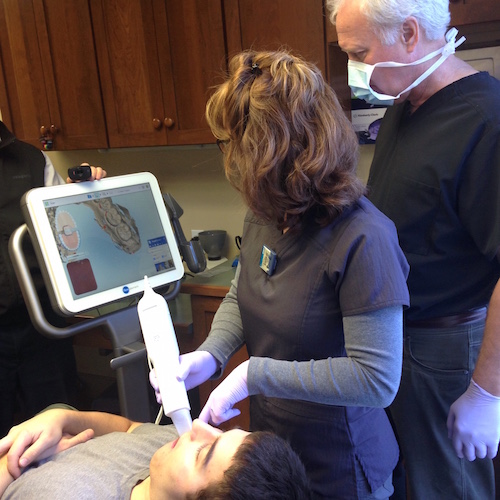 Dr. Baker supervising a model taken with the iTero Intraoral Scanner.
At Baker Orthodontics, you will receive:
Superior care from a Harvard-affiliated orthodontist
A personalized treatment plan to achieve both your aesthetic and functional goals
A pleasant experience with an attentive team that takes care of your individual needs
Good communication is essential to providing in-depth treatment information, as well as pre- and post-care instructions. For this reason, parents are always welcome in the clinical area, where each case is thoroughly discussed before, during, and after treatment.